How often do you walk into a grocery store and pick the juiciest, greenest, and best-shaped fruits and vegetables from the shelves? For the average vegetable consumer, this is pretty much all the time. And while at it, ever wondered what happens to those grocery items that don't meet the set aesthetic standards?
Well, they go to waste, despite there being no nutritional or taste difference between the perfect groceries and the blemished ones. Experts estimate that around 133 billion pounds of food goes uneaten every year because it's "ugly," and that's a lot of waste for a planet aiming to end world hunger in the next 20 years or so.
These shocking facts are what inspired the founders of Imperfect Foods.
Quick Imperfect Foods Facts
Imperfect Foods is a food delivery service dealing primarily in grocery.
Before it was Imperfect Foods, the service was called Imperfect Produce.
They sell farm produce that grocery stores would typically reject for reasons like cosmetic imperfections.
Alongside fresh fruits and vegetables, the vendor also sells meat, seafood, eggs, dairy, grains, pantry staples, snacks, and plant-based proteins and cheeses. Overall, their food quality is quite good.
Their goals are to reduce food wastage by a billion pounds by 2030 and "build a better food system for everyone."
They source their produce locally whenever possible, but their suppliers and products change regularly.
They ship weekly, but they don't ship everywhere. Their availability will depend on your location.
On average, their pricing is cheaper than that of the grocery section of your supermarket.
They only deliver one day per week. Each area they serve has its own different delivery day.
Pros
They sell most items at a cheaper price than the supermarket.
They offer a wide variety of fresh and organic fruits and vegetables, including seasonal options.
You can customize your grocery box according to your tastes.
They cater for different dietary demands, including people with allergies or vegans.
Subscribing to Imperfect Foods is commitment-free; you can change or cancel your subscription whenever you wish and at zero costs.
Their packaging is mostly plastic-free and can be recycled.
In case of an issue, their customer service listens and is quick to resolve that issue.
Cons
Some items are more expensive than the average grocery store pricing.
Suppliers change from time to time, throwing some items out of stock more frequently than you would desire.
Meat and seafood aren't shipped with dry ice but rather stored in freezer bags with frozen gels. Thus, the meat may arrive thawed, which reduces its consumption window to less than three days.
Imperfect Foods doesn't ship everywhere in the U.S.
You can't customize your delivery day.
What is Imperfect Foods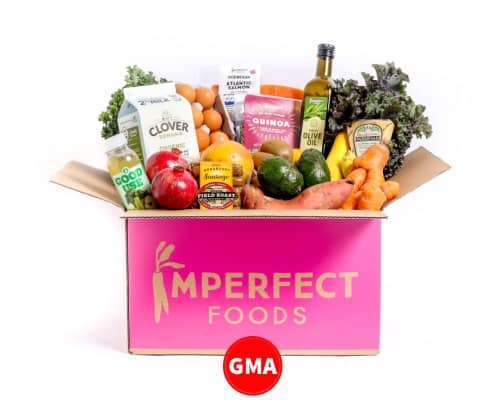 Imperfect Foods is a food delivery service dealing mainly in groceries, although they also sell meat & seafood, eggs & dairy, plant-based proteins & cheeses, grains, pantry staples, and even snacks. The company aims to reduce waste by selling foods that grocery stores would otherwise reject due to their size, shape, and other cosmetic imperfections. Other foods sold by Imperfect Foods include;
Surplus foods
Discontinued products
Ends and pieces
Foods with a "best before" date that supermarkets and other grocery stores deem too soon.
These are mostly farm produce considered too "imperfect" to make it to the shelves of fruit and vegetable retailers.
How Does Imperfect Foods Work?
Many grocers and supermarkets display their fruits and vegetables using looks as merit. Their marketing model is simple; grant the perfect-looking produce a spot on the shelves and turn as many heads as possible. As for those fruits and veggies that don't make the cut, leave them with the farmer/supplier, where they will more often than not end up as waste.
For instance, a store may refuse to buy a batch of peaches due to scarring on the peel, leaving the farmer with no option but to discard the peaches or watch them go bad. This habit is cumulatively responsible for up to 133 billion pounds of food waste every year, which does little to help our sustainability goals.
Luckily, Imperfect Foods realized that what is typically considered bad for the retailer sometimes remains good for the consumer. They buy what the grocers pass up (hence the name "imperfect") from the farmer (at a discount) and thus, sell them at a cheaper price to their customers; their shoppers can save up to 30% on groceries and other food items.
Is this "imperfect" food is good for consumption? Well, yes; otherwise, public outcry would've already shut down Imperfect Foods due to numerous health concerns.
Luckily, the foods' imperfections don't extend further than the looks. The size and shape may be a little odd, the peel a little discolored, but it's as sweet and nutritious what you'd pick at a supermarket shelf, albeit at a cheaper price. Most of the time, you won't even realize what's wrong with the product.
So, from a health & nutrition point of view, Imperfect Foods produce is good for consumption.
Where do they deliver
Imperfect Foods delivers to most of the North East, Midwest, West South Central, and the West Coast. Even then, whether or not they deliver to your home area will depend on your zip code (you can check here by typing in your zip code). Luckily, their distribution system is expanding, and those not covered will be covered soon.
How Do You Order From Imperfect Foods?
Ordering from Imperfect Foods is a pretty straightforward procedure, although as expected, making the first order will take a little longer. Fortunately, it's a process that anyone can complete thanks to the website's clean and intuitive user interface and fast responsiveness both on mobile and PC.
But before you place your first order, you need to personalize your grocery box and create an Imperfect food account. Here is a quick look at the whole process;
When signing up, a pop-up window will ask for your ZIP code to determine whether they ship to your area.
If they do, you're required to provide a few answers to help find the ideal produce box for you. These include the number of eaters in your household, your dietary preferences (low carb, vegetarian, vegan, or all), the type of product you typically buy (regular, organic, or both), and your most important meal(s) of the day (breakfast, lunch and/or dinner).
Using the above information, Imperfect Foods will show you their idea of your ideal grocery plan, including regular produce, plant, dairy, snack, meat & fish, and pantry pack.
From there, you create an Imperfect Foods account using your email and then fill in your shipping details. These will include your name, street address, city, state, and phone number.
The company will also ask you to type some delivery notes, i.e., where exactly you'd want your box delivered.
You will then be required to fill in your payment information and enter a Promo Code (If any).
Note that the company automatically sends your order each week, and billing for each order is done once the foods arrive at your doorstep (unless you opt to skip an order).
If you're worried about not liking whatever produce Imperfect Foods suggests, you'll be glad to know that they let you customize your box before shipping.
Customizing your Box
When setting preferences, your Imperfect Foods box is filled with seasonal items that the company thinks match your profile. After that, you have a two-day pre-shipment period where you can remove what you don't like and replace it with what you like.
If you don't exactly know what to pick, you can use filters to narrow down your preferences, or you can just trust Imperfect foods and go with their selection.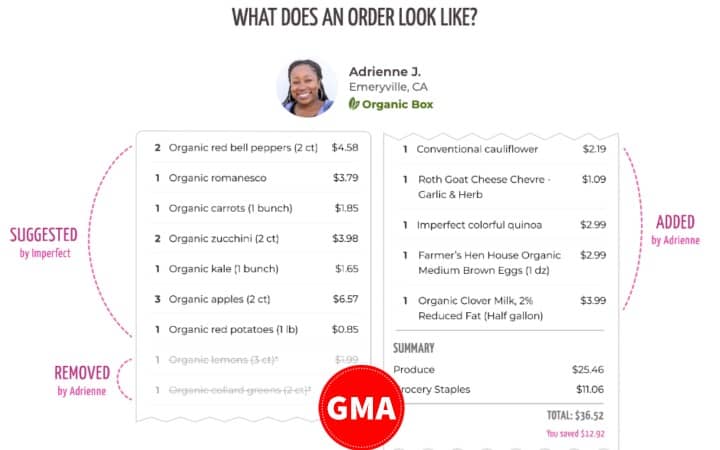 When customizing, you can also;
Skip a delivery
Change the size of your box
Add non-produce items like meat, pantry items, and dairy to your order
Change delivery frequency
Choose "add-on" packs like grain, snacks, dairy, and meat.
If you wish to see the flaw of a particular item, click on the "More info" button, and a quick explanation will pop up.
More Options Than Earlier
Imperfect Foods was Imperfect Produce in its early days and only dealt in fruits and vegetables. Today, the company's offering has grown to include meat, eggs, fish, and dairy, so there is pretty much something for everyone.
Meat and Seafood
Imperfect Foods sells heritage, pasture-raised chicken obtained from Cooks Venture and ground beef for burgers and tacos. Their seafood is sustainably farmed salmon.
Plant-Based Items
These include plant-based proteins and cheeses and milk from soybeans, almonds, and oats for all the vegans out there and people with dairy allergies.
Eggs & Dairy
Imperfect foods include cage-free eggs and pasture-raised cow and goat cheese. Milk and butter are also part of their dairy offering.
Grains & Pantry Staples
The company also sells baked goods like bread and pizza crusts, tortillas, grains, pasta, pita, and beans from manufacturers that share their sustainability goals.
Snacks
If you thought Imperfect Foods lacks a sprinkle of fun in their offering, you're wrong. They also offer some pretty delicious snacks like cookies, dried fruit, nuts, chips, crackers, and chocolate-covered pretzels to lighten up your box.
Imperfect Foods offers meat, dairy, and seafood items as subscription add-ons, like the "Dairy Grocery Add-on" that includes three or four items or the "Meat & Fick Pack" with two or three proteins. You can also add these items individually when customizing your box.
One question remains unanswered though; what exactly constitutes "imperfect meat?" I mean, having faulty meat for supper is something very few people are willing to do.
That said, Imperfect Foods meat, dairy, and seafood may have missed a supermarket's shelf for some reason, but they remain as close to healthy as most meats can be. Their meat is antibiotic-free and vegetarian-fed, and seafood is either wild-caught or sustainably farmed. Their dairy products are free of artificial hormones, and the eggs are cage-free, with organic and pasture-raised eggs also available in some locations.
The animal produce is sourced from;
Farms and dairies with whom Imperfect Foods has established a direct relationship. They get the produce directly without involving a middleman.
Farmers with surplus beef and products. The company buys this extra supply from the vendors at a discount.
Seafood cuts are deemed to be the wrong size and shape for use in commercial environments like restaurants. Imperfect Foods gets such fish at a discount.
When it comes to shipping, you must note that the food delivery service doesn't package their meat and seafood using dry ice. Rather, the company packs the foods in a large ice pack of frozen gel in a recyclable plastic bag.
This implies that sometimes, your meat won't arrive frozen solid; it will probably be in a semi-frozen state or completely thawed in rare occasions. Therefore, your dietary plans for the next couple of days may change depending on the meat's condition.
How Much Does Imperfect Foods Cost?
| | |
| --- | --- |
| Size and Type | Price |
| Small — Conventional | $11 to $13 |
| Small — Organic | $15 to $17 |
| Medium — Conventional | $14 to $16 |
| Medium — Organic | $22 to $24 |
| Large — Conventional | $20 to $22 |
| Large — Organic | $33 to $35 |
| Extra-Large — Conventional | $39 to $43 |
As you customize or add non-produce items to your box, price updates occur in real-time. Total charges will be processed the day after your order arrives at your doorstep.
Is Imperfect Foods Really Cheaper Than Regular Grocery Shopping?
For the most part, Yes, you'll be paying less money for your Imperfect Foods grocery box than you would at your local grocery shop. However, some meat and seafood items cost just as much, if not more, than what you'd pay for at your local meat shop.
Imperfect Foods Customer Reviews: What are they saying?
So, Is Imperfect Foods Worth It?
When it comes to 'ugly foods,' it doesn't get better than Imperfect Foods. Their grocery produce may not be the prettiest in the food industry, but given that you're getting the same nutritional value for less and still playing a part in fighting food waste, their 'imperfect' food is worth it.