Yumi Baby food is a purely organic formula for children from 4 months and above. This baby food is made from different natural ingredients such as beets, carrots, ginger, cinnamon, flax-seed, quinoa, chia, blueberries, sweet potatoes, cauliflower, blackberry, peach, broccoli, apple, kidney bean, raspberry, lentils, black beans, and so on.
Here, at GMA Brands, we believe that Yumi baby food was formulated by an excellent team of brilliant minds from different but related fields. These professionals have thought up and brought about healthier options to feed your babies with. What more could anyone ask for when you have a team that cares for the health of your baby and a healthy baby to show for it.
So clear your doubts, hit up the baby food subscription service and order for your Yumi baby food in all its wondrous categories; all you simply have to do is await the baby food delivery service and they will have it delivered to your doorstep in an environmentally friendly and recyclable pack weekly.
You also get a chance to change your subscriptions as time goes on. Whether it is in the change of a particular product to another, or it is a case of order indecision due to baby likes and dislikes, have no worries, Yumi has got you covered.
YUMI Fresh Baby Food: Detailed Table Summary
Age Range
Babies and toddlers ages 4 months – 11 months+
Ingredients
✔️ Organic
✔️ Made completely fresh
Meal Plans
✔️ Starters Only: Single ingredient purées.
✔️ 6 Month Pack: Single ingredient and combination purées – these adjust for baby's age + development.
✔️ Baby Led Weaning Pack: Finger foods + chunky (and yummy) ingredient combinations.
✔️ Immunity Pack: Meal combinations with superfoods + immunity-boosting ingredients.
Meal Frequency
✔️ 1 meal per day
✔️ 2 meals per day
✔️ 3 meals per day
🚚 (Delivered weekly)
Amount of food in each jar
4 oz
Packaging
BPA and BPS free plastic jars
Free shipping
✔️ Yes, you bet!
Delivers to
Most of the US (48 states United States)
Pricing
$3.70-$4.35 per jar
Reviews
An amazing average of 4.5/5 ⭐ from 2,142 reviews from 3 trusted websites
Special Coupon
50% off your first order with code KVM50OFF: Yumi
What's Special About Yumi Baby Meals?
This Yumi baby food review isn't designed to make it look good, but to enlighten about how good the brand and their service is. Its original vision was crafted in line with ensuring that all that is done in giving the best, fall in line with securing good health for the young one.
Yumi Baby meal, at your request, can deliver your baby food right at your doorstep. That's right Yumi baby food offers delivery services, making it less stressful for you to give your baby the best of baby food you can get, and there's one more thing, Yumi's delivery services are free.
You can read that again to be sure you saw right, but I promise you it's right there, Yumi Baby meal doesn't charge for your baby food delivery. So you can kiss having to put up with car parks, infant seats, row upon rows of unidentifiable product shelves, and finally grocery stores, goodbye. Well, as far as baby meals are concerned.
| | |
| --- | --- |
| Organic | ✔️ |
| No Gluten | ✔️ |
| No Big-9 Allergens | ✔️ |
| No Added Sugars | ✔️ |
| No Preservatives | ✔️ |
| NO GMO's | ✔️ |
| Never Fortified | ✔️ |
| Other products offered | Fruit & Veggie Leathers, Multivitamin Biteamins |
Organic Ingredients
Yumi baby food specializes in providing nutritious meals for your baby. Yumi products are made from purely organic sources and so you don't have to be worried about chemical additives that may hurt your child now or in the future.
Ingredients used for the production of these baby foods are fresh produce from the farm like carrots, beets, broccoli, purple sweet potato, peach, kidney beans, apple, Japanese sweet potato, mango, and the list goes on, and just as you as an adult, have transitioned to organic foods, your babies can also start their journey of edibles on organic baby food.
Everybody is healthy. A healthy home makes a happy home and this is exactly what your baby needs to grow up strong and healthy.
Made Fresh
Yumi Baby Foods is concerned about offering not only nutritious but also fresh foods to your babies. Are you a busy parent that's also worried about your child's future and nutritional health? I'd say, with Yumi baby foods, you have absolutely nothing to worry about.
Some measures have been taken to ensure that your baby food remains fresh throughout the journey from the factory to your doorstep. These fresh meals are transported in cold packs (modified atmospheric packages) to prevent the action of heat on the product, reducing the quality in any way.
This product is made and delivered every week, meaning you are sure of a fresh baby food delivery every week.
Dietician & Nutritionist-Formulated Meals
As said earlier, Yumi Baby food was formulated by a team of professionals. This team consists of pediatricians, nutritionists, and chefs who are concerned about the lack of nutritional content in baby food.
Combining their knowledge from their different fields, they have come together to create better and more nutritious options in baby food, coming up with fresh organic baby food. It has been formulated in stages for babies from 4 months and above, ranging from thin semi-solids, thicker semi-solids, solids to finger foods.
Its processing has been meticulously taken into account as dieticians and nutritionists have labored to give an organic baby food worth considering to all mothers at crossroads in deciding the best for their little ones, and not to worry, Yumi makes foods fresh just for your baby
Free From Chemicals, Preservatives, and Added Sugars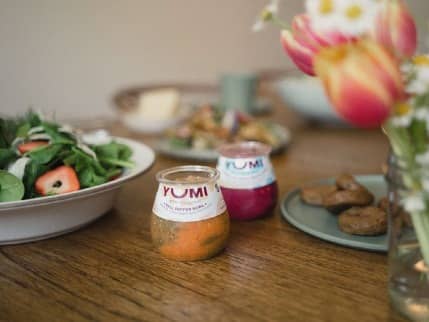 External additives are a no-no and things would like to be kept that way. The team has tailored all processes to be as natural as possible, excluding non-natural additives from its maker.
This organic baby food has been produced naturally, meaning, there are no preservatives, chemicals, additives, or concentrates. This fresh food, due to lack of any preservatives can last for up to seven days after it has been opened and up to two months if properly refrigerated.
Meals are Free From Common Allergens
You can be assured that your baby's health and future come first, and so there is no form of allergens present in any of the blends or formulas. The team of dieticians and nutritionists have has taken pains in ensuring that any allergen-triggering ingredient is kept off the list.
Allergens such as tree nuts, eggs, crustacean shellfish, soy, peanuts, fish, wheat, eggs, coconut milk, cow milk, and red bell pepper are excluded from the formula's ingredients. It's always a safety first motto with Yumi and plans are always drawn out in making that top priority.
Meals Are Made Using a Large Variety of Ingredients
There are about 80 different food ingredients used in the production of yumi baby food products which provide the important nutrients required for the proper development of your baby. Research has it that it takes about 1000 days for the proper development of the baby brain into the adult brain, and so what your baby feeds on for the first 1000 days of their cute existence is very important, and just as each stitch matters in your baby's warm sweater, each ingredient is equally essential in the production of the whole meal snack.
The nutritional benefits of these ingredients include proper development of skeletal, brain, heart, muscle, ocular, bone, gut, skin, and immune health. These ingredients also supply omega-3 fatty acids and foliate. The ingredients used in this product are certified organics
Help Your Baby to Transition Through Textures
This organic food has been broken down into food stages to help your baby transition through textures. Each of these different stages is loaded with essential nutrients to suit your baby's age. Are you worried you don't know what stage your baby is in? Relax momma or papa, you are entitled to five free sessions with a dietitian, who would help you jump this hurdle. Here's what each stage entail;
Stage 1
This first stage is a single-ingredient puree for 4-month-old children and above. This particular stage is made of a unique fruit or vegetable. We have a thinner single ingredient puree and thicker single puree for your baby's meal plan.
Thinner single-ingredient purees
Among yumi puree, baby food is blackberry puree, butternut squash puree, blueberry puree, zucchini, peach puree, and dragon fruit puree
Stage 2
Thicker single-ingredient purees for children of about 6 months and older
we have rutabaga puree, pea puree, adzuki bean puree, mango puree, purple sweet potato puree, Japanese sweet potato puree, kidney bean puree, carrot puree, apple puree, raspberry puree, lentil puree, black beans puree, beet puree, and broccoli puree.
Stage 3
In this stage, there are two ingredient blends, unlike the first two stages, for babies that are ready to take that leap of faith into the unknown food future. This stage includes purees like Pea and Japanese Sweet Potato, Strawberry shake, Zucchini and Split Pea, Purple Sweet potato and Blueberry, Dragon Fruit and Pear, Chickpea and carrot, Carrot and Raspberry, Butternut Squash and pear, Broccoli and Pear, Adzuki Bean and Pumpkin.
Stage 4
This stage involves multiple ingredients mashed up A.K.An ingredient fruit mash-up for babies of 8months and above. Mash-ups like Minty green pea soup, Pat Juk, Sweet potato cheesecake, Coconut Cream Pie, Cauliflower Soup, Spiced Pear, Harvest Squash Apple Soup, Strawberry Basil pie, Tripple Berry Pie, Apple Pie, Split Pea Soup, Three Bean Soup, Mulligatawny Soup(coconut milk, lentil, carrot, chickpea, apple, turmeric, ginger, and curry), Pumpkin Pie, Ratatouille, Sweet Potato Carrot Soup.
Stage 5
This stage of fresh baby food is also a multi-ingredient puree with a special touch of seeds and grains.
This stage includes Apricot Crumble, Coconut Amarantha Pudding, Polenta Mushroom Bolognese, Kale Pear Quinoa Bowl, Bell Pepper Apple Bowl, Pear Raspberry Chia Pudding, Blueberry Chia Pudding, Beet Hummus, Broccoli Mash Bowl.
Stage 6
These nutrient-dense meals include small pieces of food called pinchable for babies of 10 months Peach and Tomato Combo, Summer Succotash Combo, Root Medley Combo, Coconut Pea Carrot Combo, Squash Quinoa Combo, Carrot Sweet Potato Combo, Black Bean Sweet Potato Combo. This stage is also classified as finger food.
Stage 7
These are nutrient-dense bites such as Zucchini Bread Bite, Banana Bread Bite, Veggie Meatball Bite, Butternut squash Bite, Beet Burger Bite, Chickpea Panisse Bite, Broccoli Lentil Bite, Sweet Potato Latke Bite, Southwest Bite, Pizza Bite, Cubano Bite, and Carrot Spinach Millet Bite.
Stage 8
These are whole foods snacks for 11-month-old babies such as Mango Fruits Leathers, Strawberry Fruit Leathers, Mixed Berry Fruit leathers, Cauliflower Puffs, Beet Puffs.
Yumi Has a Baby Led Weaning Meal Plan Too
Having a little trouble with what to help supplement when weaning comes around the corner? Not to worry, for Yumi has got you covered in that regard.
Yumi, with all the different stages of organic foods, have provided you with a weaning plan for your babies from their fourth month. There's a wide variety to choose from and so you'll find something your baby likes.
Safe, convenient packaging
Yumi has made the packaging of these healthy meals safe for your baby. Your order is delivered to you, fresh and safe to eat. Your baby food is delivered in a Modified atmosphere container to keep the food fresh for as long as they are possible.
It will be interesting to note that Yumi is as concerned for the environment as it is concerned for your baby's health and feeding convenience. The packs can be recycled and when disposed of properly, do not pose any dangers whatsoever to the environment.
What did babies have to say about the Yumi's food?
Babies have proved to prefer this food to the store-bought baby food pouches due to the freshness of the food. For young ones about to be introduced into the world of solid foods, and having a truckload of choices to pick from, they sure prefer and will always go for a Yumi product anytime any day.
From the food subscription service to the prepared meal delivery service, how could they possibly refuse? Not to blow trumpets or sing high praises at oblivious folk at the marketplace, but come on, go take a peek at what is being offered and disappointment is a strange word to hear.
What did babies have to say? A lot of contented Gugu-gaga bearing tales of savory adventures, if you happen to understand baby language that is.
What did other parents have to say about Yumi?
Yumi saved most parents the stress of having to prepare their own baby food which, of course, has to be organic for their baby's healthy development. Yumi baby food has helped cut down on mommy daymares and nightmares about how many meals they ought to make for the sleepyhead in the stroller.
Busy career moms and dads get to concentrate on other aspects of their baby's life when they know Yumi has got their baby meals covered tight. Rest assured, baby meal preparation isn't the only ground covered by Yumi, but the consistency in upholding food safety is one of its many strengths.
So, yeah other parents have no choice but to admit the genius of Yumi products and services.
Yumi Review Summary
Here's a Yumi products review on the pros and cons of the product.
Pros:
There are more than enough varieties to choose from
Each stage is loaded with nutritional value
Free from preservatives, additives, and added sugars
The products were delivered fresh
Removed the panic of not knowing what exactly to feed your baby
The ingredients are organic and fresh
The free and prompt shipment or delivery services
Free sessions with a dietician
Very reliable and polite customer services
All Yumi ingredients are USDA certified organic ingredients
Cons:
In ensuring its quality, many-a processes have been taking into account which inadvertently has led to its rather burdening weight financial-wise.
It is slightly heavier on the pocket than any store-bought product; taking into account its baby food subscription plan and baby food subscription service
Well, it's a world of different tastes and likes per individual. Babies are not exempted from this characteristic and are known to make their own choices most times. Ask any mother you come across; chances are that she got an earful that morning due to the child's conflicting choices. Sadly, Some babies will reject it.
If your baby isn't rejecting it, then I assure you, Yumi's product is worth the cost.
How do I get started with Yumi?
First, allow for a congratulatory remark in making up your mind to patronize the meal pack that has taken your baby's health, safety, and taste into high consideration.
Create an account on yumi's website and then create a meal plan for your baby's stage. Make sure to include how many jars you want to be delivered weekly. It can be paid weekly or monthly, whichever one may be easy for you. Although, paying monthly reduces the cost of each jar.
Yumi's Baby Led Weaning Pack
This pack contains finger foods and a chunky ingredient combo for your babies that are ready to move from liquid to solid food
Yumi's Immunity Meal Pack
This immunity pack contains immunity-boosting ingredients which would help your baby's system develop stronger defenses against diseases
How do I know what meals will be delivered each week?
New menus for the week can be accessed through your Yumi account
What if I need to change a delivery?
You can always change your delivery, but it has to be a week before the due date
How much does each meal cost?
Each meal costs about $3.75-$4.35 for a jar
Examples of Yumi's Baby Food by Age and Texture
There's the sweet potato puree and blackberry puree for stage one
For stage two, there are the thicker single-ingredient purees like mango puree and the Rutabaga puree
stage three contains the duo blends like the strawberry shake puree and the chickpea and carrot puree
stage four, the mashable. they are a little lumpy and include sweet potato carrot soup
stage five; the mashable with grains and seeds e.g Apricot crumble and coconut amaranth pudding
stage six; the pinchable, for 10 month-old babies and above e.g root medley combo and coconut pea carrot combo
stage seven; bites for 11 m0nth-old babies and above e.g banana bread bite and veggie meatball bite
stage eight; whole food snacks for older babies e.g beets puffs and strawberry fruit leathers
Is Yumi Better Than Alternative Ways of Feeding Your Baby?
This product has proved to be way better than any alternative way of feeding your baby due to its fresh, natural ingredients. Yumi baby food review has shown that it is healthier to feed your baby with fresh and natural organic ingredients.
Is Yumi food worth it?
Oh yes, for the health and future of your baby, it is worth more. You simply cannot find any other products that are as fresh and organic in any grocery store. They save you the stress of brainstorming on what to feed your baby. They come without preservatives, chemicals, sugars, or additives which is important in keeping your baby healthy. It eliminates the chances of your babies being picky eaters later in the future. it also reduces the risk of your baby developing allergies or a sweet tooth because the ingredients are natural and organic. This product is dairy-free and also free from allergens, and so, you have nothing to worry about.
While this product is concerned about your baby's health, it also caters to your baby's palate of taste. Yumi also comes with free personalized dietitian advice for interested parents with questions, and also, baby delivery services are free, unlike little spoon.
This product has a lot of health benefits such as brain development, increased immunity, proper skeletal and bone formation, skin health, and lots more.
It also comes with a baby-led weaning guide book that would help you with signs that your baby either needs to move from stage five (mashable with grains and seeds) to stage six (finger foods) or from the pureed baby foods (stage 1&2) to the mashable, or from liquid foods to solid foods.
Yumi foods contain low fruit sugar and high fiber contents. It is designed to provide the essential nutrient your baby needs for their first one thousand days of development.
Yumi products are made with certified organic ingredients, no additives or fruit concentrates, just whole fruits.
Yumi products are freshly cooked and delivered every week. You can be sure that your baby would not be eating stale food that has been on the shelf for ages.
In conclusion, Yumi has made life quite easy for you as a parent, with their baby food delivery services. All you need to do is to get a hang of the baby food subscription process and you're good to go. Well, what are you waiting for? Begin the journey of a healthy baby life with just a few steps and thank Yumi later. This brand has been a life saver for me and my family!
Don't forget to use code KVM50OFF for 50% off your first order!